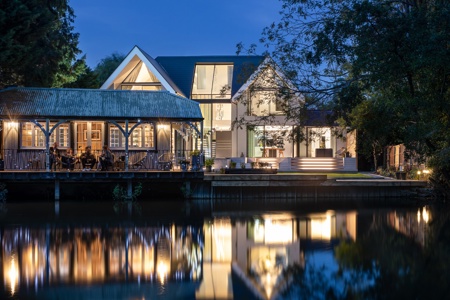 ---
Riverside House
Concept Eight Architects
---
This project sits on a riverside setting overlooking greenbelt woodland. Having
purchased the property with an existing planning permission for a Neo-Georgian
style mansion, Concept Eight were appointed to adapt the design to better suit the
family's needs. Through clever redesign of the interior layouts and a more creative
approach to the rear façade, which seeks to enforce a connection to the landscape
and views, the building has been transformed into a unique home for our clients.
Effective coordination with our in-house interior designers has meant a holistic
approach to the finishes and design throughout the property. Internally the house
has instant impact with views straight through to the river upon entrance. The double
height void within the central hallway gives glimpse views to the sky and the feature
stair leads to a gallery walkway and upper bedrooms. At the rear of the ground floor
we created a large open plan space connecting a luxurious formal dining and living
space, a large social kitchen and dedicated wine snug. All of these spaces use large
sliding and corner opening glazing to connect to a new landscape deck. This was
designed by us to create pockets of interest at different levels such as the water
feature, sunken seating and outdoor kitchen dining area. On the upper floor we have
a large master wing with covered terrace, guest suite and two children's bedroom
including top floor mezzanine spaces with views out across the rear landscape and
beyond.