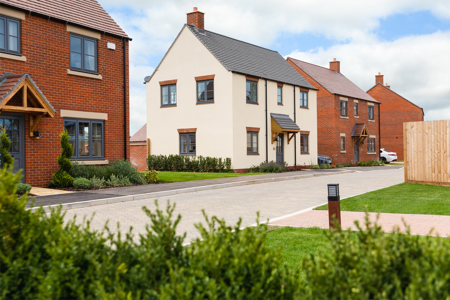 ---
Hayfield Green, Stanton Harcourt, West Oxfordshire
Hayfield
---
RAF Stanton Harcourt was a brownfield, contaminated and largely abandoned WWII Airfield in West Oxfordshire. The site had previously been marketed, further to a draft Local Plan allocation for 50 dwellings. However, the sale was unsuccessful due to project unviability.
To ensure the delivery of a viable, high-quality scheme of sensitive physical and superior environmental quality, with associated long-term social benefits, Hayfield has delivered 66 dwellings of a SHMA informed mix including 40% affordable housing and nine large bungalows. All homes are heated by eco-friendly Air Source Heat Pumps.

Hayfield's two-, three-, four- and five-bedroom executive homes have sold well-ahead of the build programme, with buyers including Key Workers and Officers from nearby RAF Brize Norton.
10 airfield buildings and structures have been retained and converted to market and affordable homes, landscape-led open space recreation features and a community-use building. A large bronze permanent memorial for RAF Stanton Harcourt was commissioned by Hayfield and unveiled earlier this year.
A heritage-led environmental strategy has dictated the meticulous regeneration of this 21-acre site, incorporating a SUDs balancing pond, swale network, native species planting, gateway tree retention and an informal 'heritage trail', including information boards and geological SSSI enhancements.
The development layout also features off-site heritage asset view-cones, a pedestrian-focussed access strategy, and 12-acres of landscaped public open space.
Hayfield's extensive community engagement facilitated the traditional vernacular approach, generous bungalow allocation, and the provision and multi-functionality of the community building – which has now been handed over to Stanton Harcourt Parish Council.