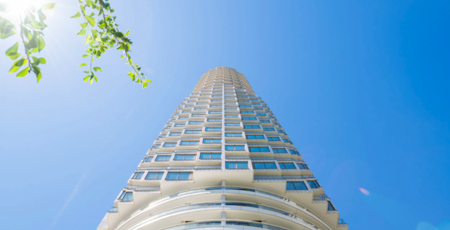 ---
Canary Wharf Group
---
"One Park Drive, designed by Herzog & de Meuron, is the signature building of the new district and one of London's most distinctive residential towers. Positioned on a prominent dockside plot on Wood Wharf, the new district of Canary Wharf, One Park Drive represents a unique architectural achievement, which has been designed to be the very best in city and waterside living.
The scheme is a combined vision of the developer and architect of how best to live in an urban tall building. One of the most popular features of the developments are the large floorplates that create spacious homes that have a sense of depth and character, whilst every apartment benefits from outside space.
One of the most challenging building types to construct, the circular, geometric form was chosen to clearly distinguishes itself from the commercial buildings of Canary Wharf, meaning it cannot be mistaken for anything other than a place where people live. The four distinctive zones on the outside, reflect how well the living spaces work on the inside.
Ensuring One Park Drive is not an insular building, the ground and first floors are home to the communal areas that positively engage with its beautiful waterside surroundings thanks to floor-to-ceiling windows. The ground floor features a reception, 24/7 concierge, lounge, cinema and library, while the first floor boasts a five-star health club with gym, spa and pool overlooking the water."