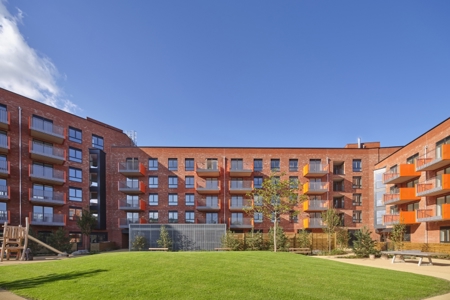 ---
THE REACH
Pitman Tozer Architects
---
Peabody is commitment to creating high-quality new homes and is investing billions into the regeneration of Thamesmead. It is not just about bricks and mortar, with investments into blue and green infrastructure, and cultural programmes within the community,
Peabody is striving to make Thamesmead a great place to be. The Reach is the first step in the delivery of much needed affordable homes for the area. The design of The Reach is both a response to the existing context and a reaction against it. The curved elevation and the ground floor community use is a reflection of and contribution to the existing commercial crescent opposite and aims to create a new, vibrant civic space whilst creating job opportunities.
The Reach is 100% affordable, with homes purposely built to meet the affordable housing needs of the local community, comprising of 14 affordable rent homes and 52 Shared Ownership apartments; including seven wheelchair adaptable homes across the tenures.
Set around a beautifully landscaped communal garden the new homes provide an ideal environment for residents and families to relax, socialise and unwind.
Through clever design and the use of quality, low maintenance materials, it was possible to keep service charges and running costs low for residents. Working closely with contractors Hill, Peabody and Pitman Tozer were able to set a new standard for the area and mark the start of Peabody's wider regeneration plans for Thamesmead.